How to make a worshop based on a close story
Do you have an idea? Do you want to tell a story? Have you thought about any particular character? Come to this workshop and get to know the most important elements on how to make and produce a documentary.
The world we live in is constantly changing, it's whole of characters, stories and phenomenons that inspire us and deserve to be heard. They might be close to us and sometimes they're part of our daily lives. This workshop provides the necessary information on how to build and explain stories through documentary cinema's creative resources.
"Learn how to make a documentary" is open to everyone, from people who work in the audiovisual industry to amateurs without previous experience.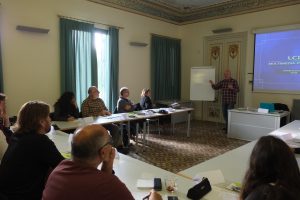 Tutor:
Joan González is the Director of DocsBarcelona Festival as well as the producer of Memorimage Festival. He was an initiator of Televisió de Catalunya and the founder of the television program 30 minuts. He also contributed on the creation of Barcelona Televisió and has been dedicated in the audiovisual sector for more then 30 years.
PRACTICAL INFORMATION

When: Saturady 4th November and Saturday 11th of November from 9.00 to 14.00h
Where: CIMIR Centre de la Imatge Mas Iglesias (C/ Jaume Vidal i Alcover 6, Reus)
Price: 55€ (VAT included)
OPEN REGISTRATION
Number of seats is limited
If you want to join this workshop, please, send an e-mail to info@memorimage.reus.cat with the following information: name and surname, phone number, age and profession, where did you hear about this workshop and the reason you want to attend it.
For more information, you can reach us at 681 16 16 25.