Sinopsis
Who was Guillem d'Efak? During the sixties, he became known as "the black who sang in Catalan", an unusual rarity within the Catalan cultural panorama of that time. Born in Equatorial Guinea, son of a civil guard, he was sent to the colony, raised in Mallorca, a poet, a singer, a bohemian, a scrounger…
A fascinating figure on whom the actor and playwright Pep Tosar wants to spin a play, for this reason he travels to Mallorca to interview those who knew him best, and then, just in front of the computer, remember what all the people have said about Guillem (childhood friends, traveling companions, his widow). Thus, they all help him, on the one hand, to remake the life of the poet and, on the other hand, to give human dimension to who until now was only a character.
In this way, Pep Tosar builds, inside and before himself his own Guillem d'Efak, with whom he will dialogue to help erase the oblivion and silence that weighs on this unique and unrepeatable creator.
This premiere will feature the film director Manu Benavente, Pep Tosar and Bartomeu Mestre, biographer of Guillem d'Efak.
Sessions
---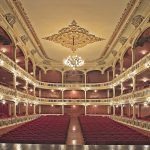 Who was Guillem d'Efak? During the sixties, he became known as "the black who sang in Catalan", an unusual rarity within the Catalan cultural panorama of that time. Born in Equatorial Guinea, […]