Sinopsis
ATTENTION!
BECAUSE OF THE STRIKE THAT WILL TAKE PLACE ON WEDNESDAY 8th, THIS SESSION HAS BEEN CALLED OFF.
Actress Míriam Iscla receives the task of interpreting the role of Víctor Català, of whom she knows only that was a woman and a writer. To obtain more information, useful for her interpretation, she begins a route that will take her to interview the people who best know the mind and the work of the Empordanese writer.
As she starts to enter the world of Víctor Català, we will see her transforming into the character and reacting to the information that the interviewees expose, either to confirm it or to answer it.
The documentary constructs this way the enigmatic character of the writer of Solitud, Caterina Albert, who had to hide behind a man's name, Víctor Català. A pioneer that, perhaps without being conscious of it, opened the path for all the women who wanted to defend their vocation.
This premiere will feature the film director Francesc Escribano.
Sessions
---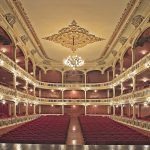 ATTENTION! BECAUSE OF THE STRIKE THAT WILL TAKE PLACE ON WEDNESDAY 8th, THIS SESSION HAS BEEN CALLED OFF. Actress Míriam Iscla receives the task of interpreting the role of Víctor Català, of […]