Sinopsis
Joan Manuel Serrat goes in depth into the memories of his childhood and youth in the Poble Sec neighborhood. Through his most personal anecdotes, we move to the middle of the last century, with its habits and rules, while Serrat transmits us the familiar, chaotic and lifeful character of an unforgettable era, and all of this with the help of the journalist Lluís Permanyer.
Little is left from that neighborhood marked by the post-war era. The shops have changed, the brothels have closed, the streets have been fixed. The renewal is inevitable, even if it involves giving up the most treasured memories. However, everything remains in the memory of those who have lived it. Serrat, the boy from Poble Sec is the nostalgic memory of an old Barcelona, the warmth of a working district at the foot of Montjuïc that saw young Serrat grow up.
This premiere will feature the film director Lluís Permanyer and Eva Martínez, head of realisation.
Sessions
---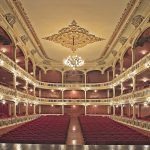 Joan Manuel Serrat goes in depth into the memories of his childhood and youth in the Poble Sec neighborhood. Through his most personal anecdotes, we move to the middle of the last […]